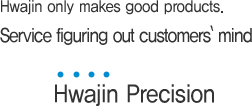 < ▶ Please click on the video you can see. >





Composition



Knife composition





Image
Name
Use
Guide pipe
Hold the center of
cucumber and help devide
it into regular size





Name of each part (part composition)



Operation order



Put knife you want where the edge is down.
Put guide pipe on the knife.
Press cucumber up to down to pass the knife and pull out from the bottom. (repeated movement)





Caution for operation and clean



Weak at damage. Strong damage can break it.
It is designed with plastic, so weak at heat. Do not store in boiling water or high-temperature.